Save Up to $200 on PHYN Plus Smart Leak Detection System
Butter Plumbing is pleased to offer our customers the PHYN Plus, Smart Water Assistant + Shut Off, which protects your home from leaks, diagnoses issues with your plumbing and gives you powerful insights into how you use water. PHYN Plus measures microscopic water pressure changes in high definition—240 times a second—to recognize the unique "voice" of each fixture in your home. So, when you run a faucet, PHYN knows it's a faucet. Once PHYN learns your fixtures, it automatically shuts off your water in the event of a leak, and notifies you via your mobile phone, so water damage can be prevented, even when you are away from home.

The PHYN Plus may be eligible for an additional $200 rebate from Southern Nevada Water Authority after inspection visit is completed. 
PHYN Plus comes with a 3 years parts and labor warranty when installed by Butter Plumbing, as we are part of the Uponor Pro Squad.
With a potential for $200 in rebates, now is the time to protect your home and personal belongings with the latest cutting–edge smart technology. Homeowner's insurance premiums may even go down once your insurance provider finds out you have installed the PHYN.
Call Butter Plumbing today to schedule your free estimate: 702-655-5214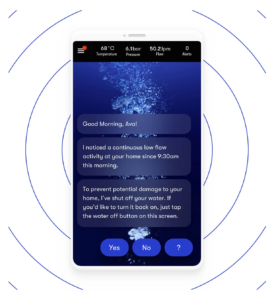 Auto Shutoff mitigates damage
With Phyn Plus' built-in shutoff valve, you can remotely turn off the water, and Phyn Plus can turn your water off automatically in the event of a leak.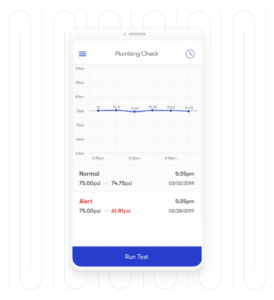 Keep your home watertight
Phyn Plus runs daily tests to give you the tools to get more life out of your plumbing. Diagnostic Plumbing Checks uncover hidden drip and pinhole leaks before they become a big problems.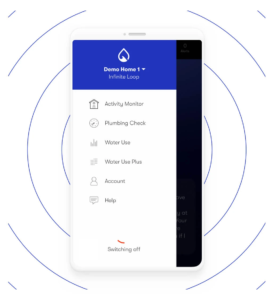 Turn off your tap, with a tap
The Phyn app lets you shut off your water from anywhere, giving you the peace of mind that if there's a leak when you're away from home, you can now stop it.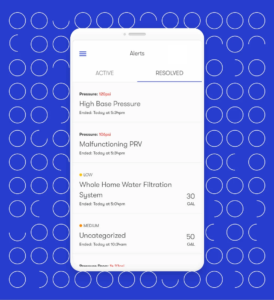 Get alerted to leaks
Real-time SMS and push notifications alert you the moment a leak is discovered, and give you the power to turn off your water remotely using the Phyn app.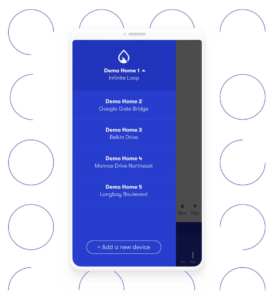 Monitor multiple properties
Keep an eye on the water in your vacation home, second home or rental property. Remotely monitor leaks and control the shutoff in up to six properties in the Phyn app.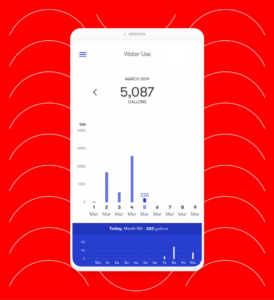 Stay on top of your water use
Get ahead of your water bills. Monitor how much water your family is using monthly, daily, and even hourly in the Phyn app.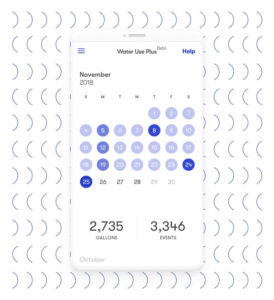 Unparalleled water insights
Get the information you need to make better choices about your water use. Spot usage trends and see how much water your irrigation, showers, washing machine, sinks and more are using.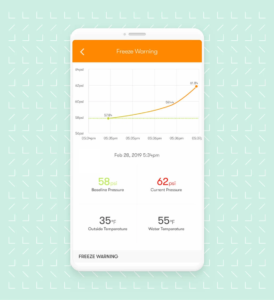 Prevent frozen pipe bursts
Phyn's patented pressure sensing notices ice crystals forming in your pipes before they have a chance to freeze and burst, giving you precious time to take action and avoid damage.
Measuring pressure waves.
240 times a second.
The science behind Phyn was developed in the labs of the University of Washington and at Belkin. Phyn Plus measures tiny changes in pressure 240 times every second to understand the unique voice of each water fixture in your home. This allows Phyn understand the subtle differences between a running bath and a burst pipe.

High Def
Ultrasonic
Flow Sensor
Phyn Plus is the only connected water monitor to offer an ultrasonic flow sensor, exclusively built by Badger Meter, with no moving parts, ensuring accuracy and durability over the long haul. Other water monitors use turbine flow sensors with rotating discs that are less accurate, and often degrade over time or can get stuck by debris or buildup.

One device. Whole home protection.
Other water monitors require you to place multiple sensors around the home where you think leaks are likely to occur. One Phyn Plus in a single location is all you need to monitor your entire home's water system for leaks.
Indoors or out, Phyn Plus is built to last
Developed to withstand harsh winters and desert summers. Phyn went above and beyond to ensure that Phyn Plus is the most durable and reliable water monitoring solution available.
Make your smart home even smarter
Connect Phyn Plus with Alexa or Google Assistant and use voice commands to control your water. And with IFTTT (If This Then That) your Phyn Plus can interact with hundreds of smart home products.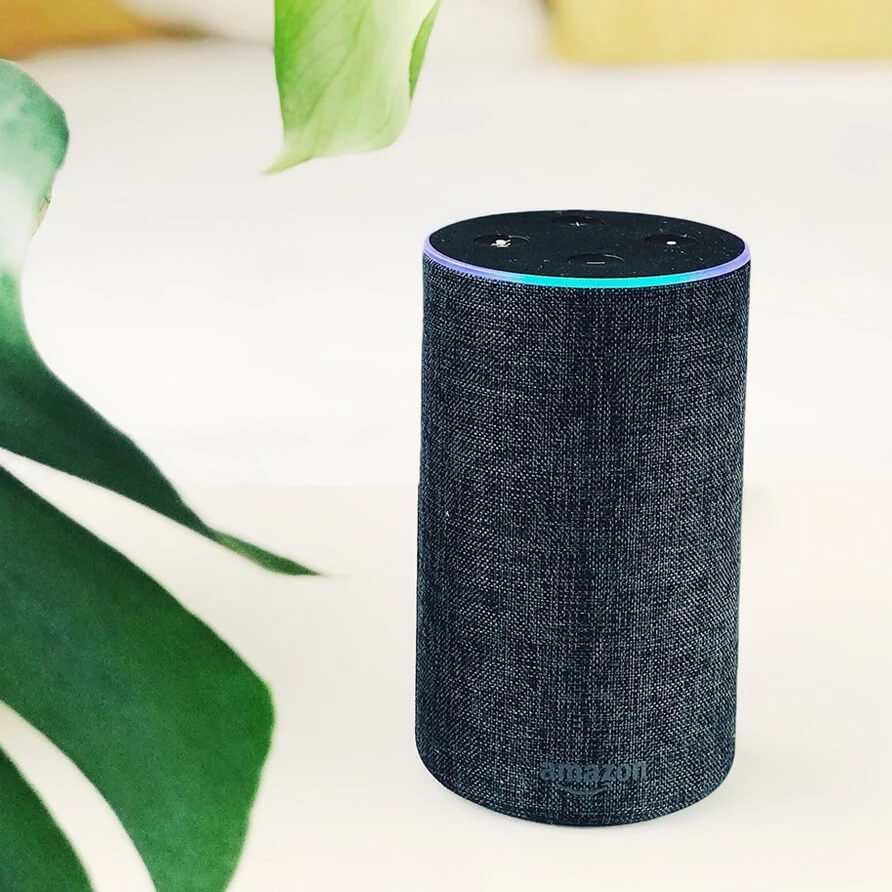 Your family's water

is safe with Phyn Plus
Phyn Plus is exclusively manufactured by Badger Meter, based out of Milwaukee, Wisconsin. A global leader with 110+ years of water metering expertise and innovation, Badger holds every Phyn Plus to the same rigorous potable water standards as utility meters already installed in millions of homes.
Technical Specifications
Installation
Uponor Pro Squad professional installation recommended
Designed to work universally with as many existing plumbing systems and materials as possible.
Installs horizontally or vertically
Fitting Size
1" threaded male ends, designed to adapt to different fittings
Features
Easy setup
Free Phyn app (no subscriptions)
Leak alert notifications
Water use charts + comparisons
Automatic + remote water shut-off
works with: Alexa, Google Home, IFTTT
Diagnostic Plumbing Checks
Manual shut-off tool
External antenna port
Pressure
Maximum working pressure: 125 psi
Antennas
Dual internal antennas
External antenna port (external antenna not included)
Certifications
NSF/ANSI 61: Drinking Water System Components; Health Effects
NSF/ANSI 372: Drinking Water System Components; Lead Content
IP55 rated: Sealed against foreign particles and water
RoHS 2011/65/EU Compliant: Hazardous Substances
HALT tested to Military standard-810G: Heat / UV / Cold / Humidity
State of Massachusetts Plumbing Board Approved
UL 1310/60950
CAN/CSA C22.2
Location
Indoor/outdoor rated
Power
110/220V 19W power supply
15 foot outdoor rated power cable
GFCI outlet recommended
Connectivity Requirements
Wi-Fi connection
Phone or tablet with iOS10 +, Android 7 +
SMS text messaging
Free Phyn app
Wireless
802.11 b/g/n @2.4Ghz
Shut-Off Valve
Full bore construction
Electronic for remote control
Custom designed manual water shutoff override tool