Are you in the market for a new water heaterin the Las Vegas area? Are you overwhelmed by the sheer diversity of system types and brands on the market today? You need a professional guide to help you make an informed decision that will ensure that your new equipment works as well as it should for years to come. At Butter Plumbing, we can take care of all of your water heater needs in Las Vegas, NV, including installation, replacement, repair, and maintenance. We service all brands and types including conventional tank water heaters as well as tankless and solar water heaters. Simply give us a call to schedule water heater services in Las Vegas, NV and the surrounding area.
Your water heater is one of the major plumbed appliances in the home. It is responsible for a bountiful stream of temperature–controlled hot water to all of your fixtures, faucets, and appliances such as the dishwasher and washing machine. It is a must for every home, and we can help you whether you currently have one or not. Speak to one of our friendly technicians by picking up the phone and calling Butter Plumbing today about your water heater needs in Las Vegas, NV.
The Las Vegas water heater experts at Butter Plumbing offer quality tank and tankless water heater installation, repair, replacement, and maintenance services throughout the Las Vegas, NV area.
What Type of Water Heater is Right for Your Home?
Selecting the right water heater for you Las Vegas, NV home is critical to ensuring that you have excellent hot water for years to come whenever you need it most. For many years, the only type available was conventional tank, but recent advances in technology now allow us to offer tankless and solar water heaters in addition to conventional models. Let's take a look at your Las Vegas, NV water heater options.
Don't get the wrong water heater!
Tank Water Heater
A tank water heater is probably what you think of when you think of a water heater. It is a large, upright cylindrical tank that holds a reservoir of heated water to be used whenever a fixture or appliance calls for it. It is powerful and effective.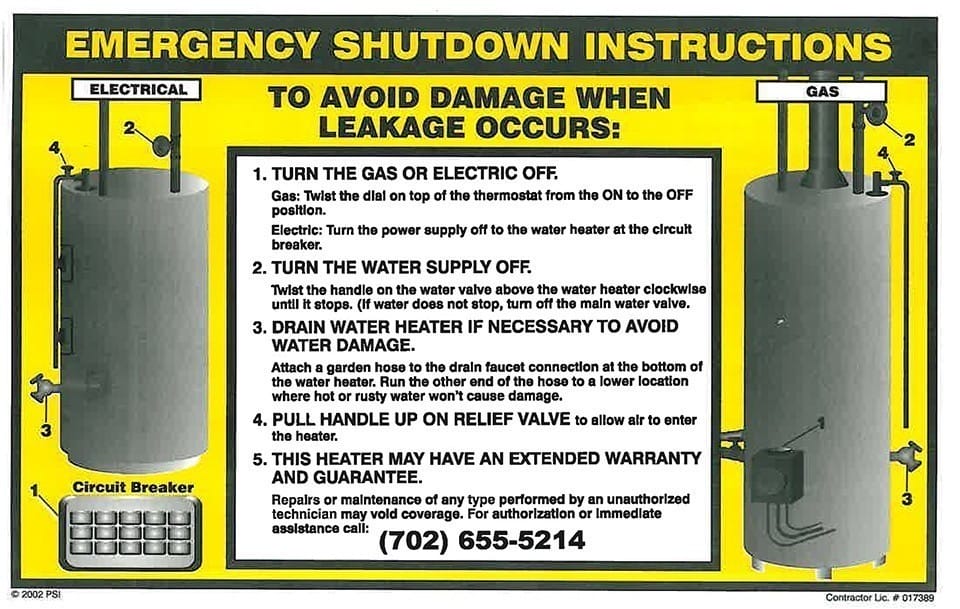 Water Heater Emergency Shutoff Instructions
Tankless Water Heater
A tankless water heater does not use a constantly heated reservoir of water, but rather heats your water on an on–demand basis. This allows you to save a significant amount of energy. Multiple units can be used throughout the home.
Solar Water Heater
A solar water heater comes in various types and sizes, but it basically uses solar energy drawn in through a solar panel to provide heat for your water. It is often backed up with a conventional water heater for those cloudy and cold days.
Las Vegas, NV Water Heater Installation and Replacement
No matter what type of water heater you choose for your home, make sure that it is appropriately sized so that it is energy efficient. Size is important because it dictates the quantity of available hot water that you have access to at any given point. If your water heater is too small then you will be frustrated by the lack of hot water after a single shower. If your water heater is too large then you will be frustrated by its inefficiency. You need one that is just right, which is where we come in. Let Butter Plumbing take care of your water heater installation and replacement service in Las Vegas, NV.
Las Vegas, NV Water Heater Repair and Maintenance
In order to get the most from your water heater, it needs to be routinely cared for. All water heater repair and maintenance services in Las Vegas, NV need to be carried out by a professional plumber who has the experience and expertise to get the job done right the first time. At Butter Plumbing, we not only install new equipment; we are also available 24/7 for any issues regarding the state of your water heater, whether tank, tankless, or solar. Call us today to learn more about our water heater services in Las Vegas, NV.